Microsoft MB-210 Exam
If you have been part ofthe IT industry for long enough, you will know thatits professional space is quite competitive. However, you will also notice that there are many job openings here. The problem is that companies only want to hire the best people and in most cases,the only thing standing between you and your dream job is going to be a competitor who is certified.
Certifications have become very important nowadays because most IT jobs are skill-based and if you have a credential with your name on it, employers can easily differentiate you from the rest of the applicants.
If you take a closer look, you willsee that there are a lot of certification vendors out there. Each of them has something special to offer and that is what makes this decision so difficult, so don't rush into choosing.What we recommend you to do is to pay attention to Microsoft's certification program as it offers numerous badges according to your skills and job preferences.
This great IT giant can also help you change the direction of your career.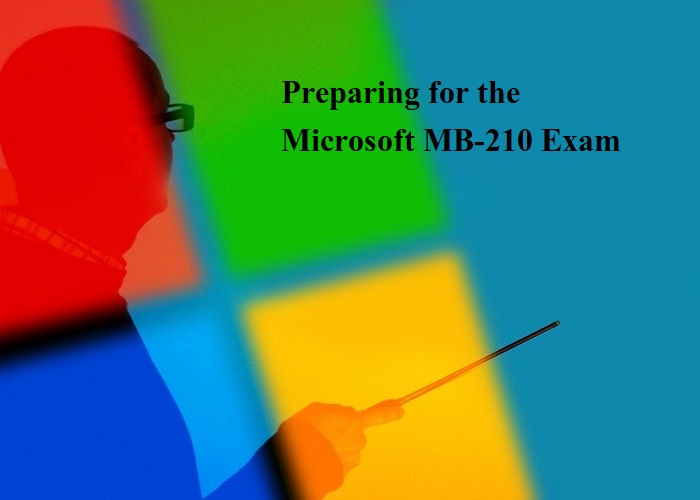 No matter which Microsoft badge you need to get, you will have to take an exam or more to prove your skills. They are quite tough, so you need to take this seriously. In this post we are going to talk about the Microsoft MB-210 exam which relates to the Dynamics 365 technology and along with MB-200 leads to the associate-level certification, so let's talk about this test in much more detail. And to start with, we'll review the requirements for applicants.
Who Needs This Exam?
Just like most other Microsoft exams, MB-210assessment isn't for everyone and Microsoft has a specific target audience in mind. Candidates sitting for this exam should have working experience with Dynamics 365. This technology is used to implement certain solutions that run effectively to meet the set revenue targets.
These test-takers are also responsible for expanding and configuring the core functionality of Opportunities, Accounts, Contacts, and Leads. You also need to make sure that you have a strong knowledge of business processes and profound skills in sales before you take the Microsoft MB-210 exam.
Learning More about the Exam
So, you sit for the MB-210 exam after completing the MB-200 test, and if you succeed in the second assessment you'll earn the associate-level certification in Microsoft Dynamics 365 for Sales Functional Consultant.
One of the first things that you need to understand about the MB-210 test if you wish to see your name on that certification is that you need to prepare seriously. In this exam, the candidates will be tested on a variety of tasks like performing different types of configurations and managing core sales entities.
The exam will check your knowledge of creating sales visualizations, implementing external sales applications as well as managing quotes, sales order processing, and product catalog among others. Download the whole list of topics from the official site to know all the details and be ready for any task.
Another important tip that you need to know is that you should not revise anything on the exam day. If you do this, you will only end up mixing up information and you will not be able to perform well in this assessment.
The next clue is that once you get the questions, you should not just jump straight into the exam. Instead, you should first spend a few minutes looking through all the tasks to assess your strong areas and create an answering strategy. You might think that this is time wastage, but on the contrary, this will help you save a lot of time in the end.
Last but not the least, if you want to do well on the Microsoft MB-210 exam you need to polish your time management skills. You should also try to reach the test at least 30 minutes early so that you have enough time to review, calm your nerves, and clear your head. One of the best ways to save time is by answering the questions you know first. After that, you can move on to the rest of them.
What can really help you to improve the time management skill is a deep knowledge of the topics and a lot of practice. Let's find out what official and third-party preparation resources can be vastly helpful for you.
Preparing for the Microsoft MB-210 Exam
If you are going to prepare for any certification test, firstly you should observe all the study materials available. The simplest way to start this research is to visit the official Microsoft website. For MB-210 exam there are several options offered like free self-paced courses and instructor-led training. Also, don't hesitate to explore Amazon, YouTube, and IT forums to find more variants.
Sure you can rely on the official study materials but completing your studies with practice tests is never a bad idea but be determined to find reliable ones. For example, you can go to the Prepaway.com website and get there several free vce files or a paid premium file including 70 actual and expert-checked questions and answers.
This file will cost you $39,99 and don't forget to also download and install the VCE Exam Simulator by the Avanset team to have a chance to see the exam environment and take interactive trial assessments.
These practice tests will help you ensure whether you have learned a certain topic properly or not. This is why you should start preparing for the Microsoft MB-210 exam early because if you feel that you are unable to answer the questions you can go back to the drawing board, try to learn those themes again and check your readiness using the VCE Software.
Conclusion
If you are going to takeMB-210 test exam, make sure that you are using the practice tests to your advantage. Prepaway.com is one of the best places where you can get some valuable preparation materials from. Passing MB-210 exam alongside MB-200 will prove to be very beneficial for your career because it will earn you the associate-level badge in the Dynamics 365 for Sales Functional Consultant and thus open up doors you didn't even know existed