Attending trade shows is a classic way for businesses to network and build their client base, but despite their long history, few companies have mastered the formula for trade show success. In fact, many businesses view trade shows as a risky investment, since they can be costly for attendees and participants.
There are others, though, who consider trade shows to be a risk worth taking. Their expert tips can help you navigate these events and make the most of your company's investment – you may even outshine seasoned participants.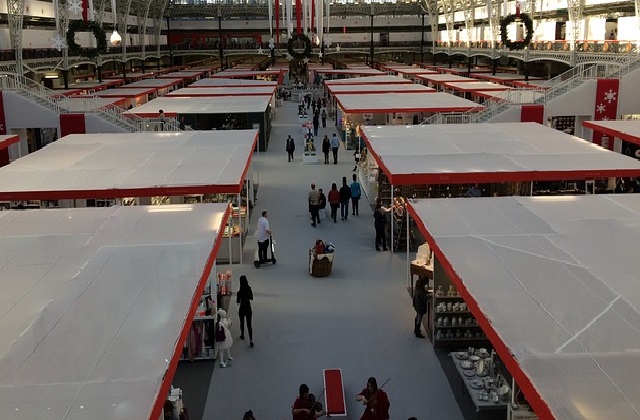 Trade Show Bound? These 4 Strategies Will Take You Further
Research The Events
Trade shows come in all shapes and sizes, from the big industry events to those centered on small businesses, so before you register for an event, do your homework.
Research shows to find the event that's most relevant to you and where you won't be overshadowed by high profile companies. For example, while it may be beneficial for a small tech and entertainment company to attend E3, it probably wouldn't be profitable to actually display there. Instead, look for an event where you'll be among peers and where you're more likely to find networking opportunities and potential clients.
Make Sure You're Visible
It's easy to get lost in the chaos of a trade show, so if you're going to stand out amongst the competition, you need to create a stellar booth display. Your display should make your brand visible and memorable, encouraging passersby to stop at your table. Most people feel overwhelmed when browsing the booths at a trade show, so if your display isn't doing something different and cutting through the noise, people won't stop to learn more about your brand. You have to invest in your display to achieve real results.
Master Your Messaging
One reason that companies don't do well at trade shows is that they don't prepare their messaging in advance or establish clear goals; saying that you want to grow your client base or network with others in the industry isn't enough.
It's not a goal if it isn't specific and measurable. Take time to map out your messaging – both the words and their function – and tie that messaging to specific outcomes. Be clear about what staff members will deliver those messages, how many people you want to reach, and how you'll follow up on your event message when you return home.
Try High Tech Tactics
Trade shows have been around since long before computers and VR, but they need to evolve if they're going to stay relevant. As you develop your show strategy, then, consider how you can digitally engage your audience, whether through slideshows and computer displays, VR headsets, or sample devices, and then plan accordingly for their transport.
If you're going to use computers or other sensitive technology, you need to arrange to get it to the site and secure any technology and merchandise during the show.
By planning ahead, setting clear goals, and following up on trade show contacts, you can make the travel and display expenses worth your while.
It all comes down to assessing how the show fits into your broader business goals and remember – if at first, you don't succeed, try again. It takes time to overcome the trade show learning curve, to hone your presentation and master the chaotic environment. In time, you'll find a way to break through the noise.