Amazon Work Culture
Before go to join a new job some people mostly like to review some companies, while some people like to get details about various kinds of famous companies. Like how are the work culture and work environment in that specific company? Amazon is a multinational company where high numbers of employees work worldwide.
But if you want to get to know about the work environment of Amazon then this article will be so helpful for you. Here we will try to explain to you everything about the workplace environment of Amazon. Like how this company treats to their employee as well as you will get an answer to your question like is Amazon a good place to work or not?
The main motive of this article is to clear all the things about Amazon work policies and employee management through that they handle their employee. While what is the exact conclusion about their work culture comes from their current as well as previous employees all these things will be interesting to get know.
Is Amazon a Good Place to Work?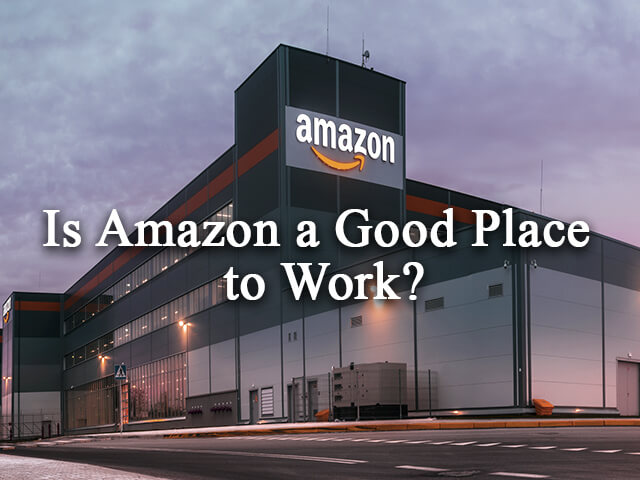 Main Content:
Some Important Key Points about Amazon Human Resource Policy or Amazon Employees Treatment
Is Amazon a Good Place to Work?
Conclusion.
FAQ.
Some Important Key Points about Amazon Human Resource Policy or Amazon Employees Treatment
If we need to talk on Amazon's human resource strategy about employee management then this company approach is customer centric, For Amazon earth is the best place where it is possible to sell anything. Means Amazon try to search there customer at any place on earth. Same thing they expect from their employee, through that they want to increase sales ability in to their employee.
Employee hiring process in Amazon is quite different than others, they do not depend that much on the conventional hiring process. Also, they don't prefer to invest money into the hiring process for that Amazon mostly focus to telephonic or online interviews as compared to face to face round. Face to face round interview arrangement for those candidate who done completion of prior round. Amazon never waste their time into the entertainment of candidate who is not eligible to work with them.
As Amazon is working into the multinational platform, That's why their human resource team always try to keep good relation with local candidates as per their background. In this way, the human resource team tries to keep balance into diversity in the workplace.
Amazon Offers good salary to their employees, apart from that there are good perks and benefits are available for employees.
Through human resource team, time to time Amazon try to do employee assessment, by that they want to check about where they need to work to make their employee more dedicated and eligible about their work.
Amazon is a multinational company so for people who want to work with a famous multinational brand then it can be a good choice for them, as Amazon's human resource team manages diversity in the best way. For them, no matter to set up and handle their business anywhere into the world as much their management is dedicated about business policy.
So these all are some basic points about Amazon's human resources, through that Amazon has achieved their business expansion all over the world.
Next, we will try to review more about this retail giant company, also we will try to check some basic information which is the basis on the opinion of some current and previous employees of Amazon.
Is Amazon a Good Place to Work?
Here we will check the pros and cons of Amazon, through that you can check, is it really worthful to work with them or not.
Pros About Amazon or Advantages of Amazon:
Amazon gives a good salary to their employee apart from that they offer handsome perks and benefits to their employee. Employees who are multi-talented and able to expand the retail chain all get time to time rewards from the company for their work performance.
During the work with Amazon employees can get a chance to expand their knowledge and work potential. Many interesting tasks are also available there, through that anyone can realize and expand work potential into them.
Those who are smart, creative, and know well how to build a chain with the online retailers for them Amazon can be a good place to prove their ability. While such qualities in you can give you the best position in Amazon company. As Amazon always moving ahead with the customer-centric approach so they need the best in you.
As compare with other companies, your employee graph can be raised quickly into Amazon. The reason behind that is Amazon's higher authority and human resource management want to promote their employee talent on a higher level. For that, they have set up a work strategy according to that, while employee assessment is the part of Amazon human resource management.
It is true that somewhere hectic work culture into Amazon. But someone who is passionate and multi-talented about work, for them it can be a good place where they can stand themselves into the competitive era.
Amazon never goes to check employee previous history, like previous history as well as details about the prior designation, etc. It means no matter what was your previous designation like you could be a rapper, singer, athlete, wrestler, etc Amazon will consider you as their employee only. While you will get salary in Amazon as per work potential available in you.
Amazon employees are collect data with the help of some modified tools and applications, they never try to collect data by any conventional and artificial methods. So during the work with them, anyone can well be versed with the best technology, we can say the innovative business model is the priority of Amazon.
Cons About Amazon or Disadvantages of Amazon:
Sometimes as an employee of Amazon you may get stuck in between handle to professional work and personal life responsibilities. In recent times that's the big issue with Amazon employees, where especially female employees find a lacking in time which they want to give their family and personal life.
You can get to see so much competitive work environment in Amazon where they have all time focus on the expansion of their retail chain as well as acquiring new customers. Such an atmosphere can't be suitable for all employees because everyone has a different work potential and skills. You must aware of such things about Amazon if you are thinking to work with Amazon in the future.
Amazon opposed unionization between various department employees like a warehouse, retail chain, etc. You may get to see discontented employees in Amazon due to corporate culture and compensation. It can create sometimes conflict between the organization and employees.
As per some reports in the next few years Amazon could start to track their employee every moment in the workplace. It can be so weird in some cases while not every employee can agree with such kinds of work policies.
Salary increment criteria in Amazon is not that impressive, as they apply increment in employee salary on least level.
Conclusion:
There are different views of employees about Amazon like some are satisfied with them while some may be discontented with them. So after reading this information you can get some basic idea about the work environment, human resource policies, and work strategy of Amazon. If you think to join Amazon as a workplace in the future then somewhere this information can be so helpful for you on every step.
So all of these are some cons and pros about Amazon company after read them all someone can think it can be good company for them while some others can think it is not good company.
After all its all can be your personal opinion like what do you think about Amazon. In this way, we have discussed the work environment, work policies, and human resource policies of Amazon.
Hope you well understood now like, is Amazon is a really good place for work or not. Try to share this important information with some other people, so that they will also get benefits from it. Thanks for being with us.
Frequently asked questions about " Is Amazon good place to work or not?- FAQ.
Q. Which things are best in Amazon when we are going to work with them?
Ans: Amazon never goes to check employees' previous history like about their prior designation and salary.
Q. Is it true that during the work with Amazon, employees may get stuck in balancing personal and professional life?
Ans: Yes it is true and sometimes happens with some employees.
Q. Which qualities can push you into the best position in Amazon?
Ans: Smart, creative, dynamic nature with goal-oriented dedication. Multiskilled and multitalented people can prove them very well into the company.
Q. Is it true that Amazon's human resource team manages diversity in the profession at the best level?
Ans: Yes, it is true.
Q. What is the percentage of satisfied employees working with Amazon?
Ans: Approximately 75% of employees are satisfied with their work with Amazon.