Search Engine Optimization (SEO) is predominant for every blogger. As much as search engine rankings are concerned, we can compare blog posts to website pages. Hence, the posts can be made rich in keyword so as to optimize its search engine ranking.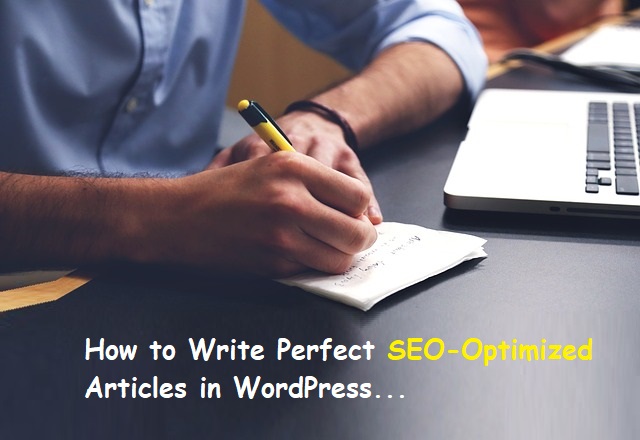 So, how to accurately write perfect SEO-optimized articles in WordPress?
•    Post Meta Description
Your post should have meta description as it plays an essential role in search engine ranking, besides drawing in readers. Think of a meta description that is persuasive enough for the readers to click on it without hesitation.
However, don't forget to include the target keyword. Put your meta description between 150 to 160 characters. Use it as a summary of your blog post. What your content is all about? What readers can expect upon reading it?
•    Post Title and Meta Title
Many think that meta title is similar to post title. That is not the case, though. Post title means how readers view the title of your post, while meta is that way which search engines show your post as search results.
Just important tips: The focus keyword in your post title and meta title must only between 50 to 60 characters. And for post title alone, always make use of heading tag H1 tag.
•    Image Alt Attribute or Alt Tag
Perhaps some of you tend to name the images you've uploaded as image001.jpg (for example). You could be heading to the wrong track.
If you want Google to understand all the images you are uploading, use proper image name instead. You can also include your target keyword. Do this by manually setting image alt attribute while uploading or using SEO plugins.
•    Headings (H1, H2, H3)
Heading are generally used for highlighting the main idea of a certain topic as well as the emphasized idea in the blog posts. Use H1 heading tag for your post title, H2 for your next subheading, H3 for heading, and so on.
The heading does not only make your overall blog easier to understand and catchy but also helps to optimize your content for search engine ranking as well.  If you think that you can't do these just hire a wordpress virtual assistant. He will do these for you.
•    Anchor Text and Interlink
Another way to write excellent SEO-optimized articles in WordPress is linking your new post with an older blog post. This way, your older posts will still rank in the search engine and your readers will stick around your website for more luring and good contents.
This will also eventually help you minimize the ads and bounce rates to the search engine rankings. As possible, make anchor text while also making interlinks.
•    Permalinks
Permalinks are those numerous words being added to the domain name when searching for an article on a blog. This usually requires you to remove all the "stop words" (e.g. "etc" and "to").
Always double check your permalink before you publish the post because you can no longer edit it once the post has been published.
Make your blogging profitable and successful with the SEO content writing tips given above!