Today, more and more businesses are using technology to help them market their products and increase their online visibility. One of the most popular ways of doing this is through Google products such as Google My Business, an internet-based service that makes it easy for people to search your business. However, for all the advantages that technology offers, it also presents a number of challenges.
As a business owner, you can receive calls from people who claim to be from Google, offering to help with your Google listing or ranking. It is important to learn more about this issue in order to avoid being a victim of fraudulent google business listing calls that are becoming increasingly common.
Generally, Google does not make calls unless you have asked them to. In most cases, the calls will be related to the verification of a Google My Business listing. This means that all these unsolicited calls are a scam, making it important for business owners to know what to do when they receive the calls.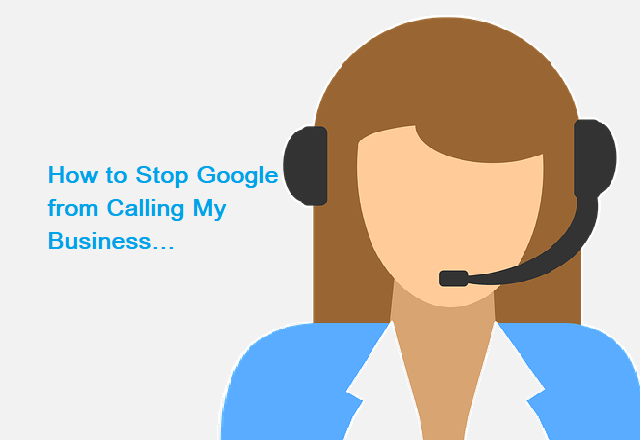 Legitimate calls from Google
There are a few circumstances where you will receive a call from Google to verify your business or confirm the business details for Google My Business or Google Maps. The phone call may also be in relation to Google Play, Google AdWords, or any other Google product. It is important to be in a position to identify legitimate calls from Google. Unless you requested an automated call, legitimate calls from Google would always be from a live person as opposed to a recorded voice. Legitimate emails from Google will be sent from an email address ending in "@google.com."
The only automated calls from Google will be as a service to Google users. These include non-sales tasks such as confirming your business hours or making reservations. Automated calls from Google are also made from a set of designated numbers.
In case you do not want to accept the calls, you will have the option of saying so on the call. It is possible to receive calls from Google operators for the purposes of customer service, development, or support for the different Google products. One of the easiest ways to identify a legitimate call is that Google will never guarantee favorable placement in their various products or ask for payment information.
What to do in case of a suspicious call
With the many unscrupulous individuals who make fraudulent and misleading calls, protecting yourself and your business means knowing what to do when you receive the calls. Since many of the phone calls are outlawed in the US, Google does not support them.
Here are a few steps you can take when you receive a suspicious or unwanted phone call:
Report suspicious calls to the FTC
Those who receive a fake Google call in the US can file a complaint with the Federal Trade Commission, commonly known as FTC. Complaints can be submitted either by calling the commission or through the website donotcall.gov. Another option would be to file a complaint with the Federal Communications Commission.
In order to stop this type of phone call, business owners should register both their landline and cell phone numbers with this service. In case you are getting the calls on your personal line, you should have it registered as well.
Hang up
In the event that you receive a suspicious phone call from someone claiming to be from Google, you should feel free to disconnect the call. Be careful not to press any key or take any action as directed by the video recording prompts. This is particularly important to remember if the prompts request you to do so if you want to speak to a live person or be taken off the call list. Following the instructions may result in more unwanted calls as well as other consequences.
Block the numbers
Receiving unsolicited and unwanted phone calls every now and then can be a nuisance. If you want to stop this trend, you can consider blocking the numbers. You can either choose to use the built-in blocking feature in your phone or contact your service provider to have those specific numbers blocked. There are also a number of apps that you can use to help identify and block potential phone scams.
Report fraudulent activity to Google
In addition to filing a complaint with the FTC, you should also take time to report any fraudulent activity to Google. Business owners can access complaint forms for reporting such violations from Google My Business. In an effort to help protect small businesses against this type of scams, Google responds by taking legal action against any entity that uses its name to carry out fraudulent activities.
Prevent future unwanted calls
When it comes to unwanted calls, reporting to the relevant bodies alone is not enough. It is important to learn smart ways of preventing such unsolicited calls in the future. FTC offers invaluable tips on how to handle the phone calls and the steps you can take if you receive one. You can also learn more about identifying scams from Google Safety Center.
In case you already got the fake Google call and are paying for help, you should not worry too much. This is because the scammers are only charging you for a service that should otherwise be offered for free. The best thing to do would be to report the case and take the necessary steps to ensure that your business is protected from such activities. Even if the phone rep tries to scare you if you try to cancel the payment plan, you should go ahead and cancel it.
When it comes to understanding calls that are legitimate, education is your best defense. Business owners should seek not only more information on these phone scams but also learn more about how to identify them. The next line of defense would be to make sure that you have claimed and verified your Google listing. While this may not eliminate the illegally recorded calls, it will go a long way in helping to protect your business in the future.