How to Know When It Would Be Better to Outsource
Should you hire a new employee to handle a task or outsource the work to a company that specializes in it? It's a big question. It impacts the operation of your business, payroll, and overall revenue. There are a lot of times when outsourcing some tasks is critical to your company's operations.
Outsourcing is easier to do than ever. You can hire a wide range of companies to help you with managing the more specialized aspects of your operations. When you do, you end up saving time. Put that time towards tasks you specialize in, such as growing your products or services. You may find it more feasible to outsource in numerous situations.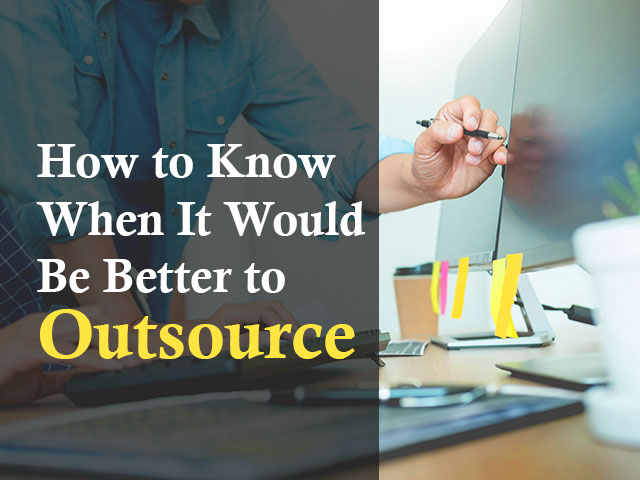 Take a look at the following instances when outsourcing is typically the better option than hiring. Consider how you are running operations right now. Is it working for you? Are you getting the truly best outcome? Here are a few factors to consider.
Outsource When Specialized Services Are the Better Option
Hiring someone to do the work in-house is often an option. However, this may mean finding a professional that's particularly experienced. That can mean paying them more. You then need to meet their needs, such as having high-end software available for them to use or specific equipment to do the job. In these cases, outsourcing makes sense.
For example, consider how you are managing your fulfillment and shipping services now. You can buy software and do this in-house if you have the right talent. Even then, you may not have all of the options available that an outsourced provider can offer.
Hiring a third-party logistics company, for example, allows you to enhance your business without the high cost of talent. When you need highly skilled services to reduce logistics costs, improve operations, or just give you more insight, outsourcing is best. They may offer more innovative solutions. They could help you to ship faster or at a lower cost. Some may have the technology to flag problems early on.
Outsource When Hiring Is Tough
Many businesses are struggling to hire enough talent to meet their needs. That may mean your time is more important to manage carefully than before. This also means you need to consider outsourcing tasks that can be done by someone else.
Consider administrative tasks, for example. Outsourcing administrative tasks allow your business to gain flexibility. It can even help you reorganize your operations to put more people into positions that you cannot outsource. With difficult hiring scenarios in many industries, outsourcing means you can continue to focus on operations while administrative tasks – which are still critical – are being done by an organization specializing in them.
When You Want to Save Money
Outsourcing some systems and operations allows you to save money. It's important to do a cost comparison to determine if hiring in-house is more affordable than outsourcing. Often, it's more expensive to hire someone to do this work for you. This varies per industry and task, of course.
For example, hiring a full-time accountant to manage your company's books could seem like a great way to keep costs down. You need to pay a salary, but also benefits, workers' compensation, and taxes for that employee. You need to pay for a space for them to work and manage their HR needs going forward.
When you consider that you could pay a flat rate fee to a company to do the same work, it may just make sense to outsource. Using outsourced bookkeeping and accounting could reduce your costs. At the same time, there's no deviation in the quality of service you get from doing this. It simply makes sense, then.
Before doing this, estimate the cost of hiring an employee in your sector to do the tasks at hand. Then, find out how much it costs to outsource that same skill. You may find particular savings available to you in areas such as administrative tasks, marketing, and human resources.
When You Don't Want to Put a New Sector into Your Company
Another consideration is the need to build a new sector into your company. If your company is growing, you could expand some departments to meet larger needs. For example, you could hire several people to create a human resource department. You could hire a team in-house to do your marketing. This means the establishment of an entire team, though.
That means hiring employees to do the work. It also means hiring management in those sectors to oversee the work of the employees. You may also need to flesh out the skills of existing management to ensure they understand the work of the new employees. The team needs office space in your building. They may need other supplies and tools to do the work for you.
When You Have Too Many Employees
Another time when it may be wise to outsource is when you have too many employees right now. You want to make your company more streamlined and efficient. One day to do that is to reduce your employee numbers.
If you have too many employees, you may feel the financial pinch. It may be hard to cover benefits and payroll. It may become difficult to have enough trained management to oversee these individuals. You may also find it hard to keep your company the small organization that you want it to be.
Having too many employees is a problem. It's often costly to manage employees. It may also be complex to provide the type of culture that you desire with too many employees. With wages rising and benefits structures more detailed than ever, outsourcing often seems like a necessary step.
Making the Move to Outsource
It's not often that outsourcing is an easy decision for any company considering it, and the transition can sometimes be overwhelming. Yet, outsourcing sometimes makes financial and operational sense. That's especially true when outsourcing improves the way you operate your business, benefiting your customers and profits.