Running a business carries enough risk by itself, but running a business out of your home multiplies that risk. In addition to meeting city requirements, if anything happens to your home (like a foreclosure) you could be out of business.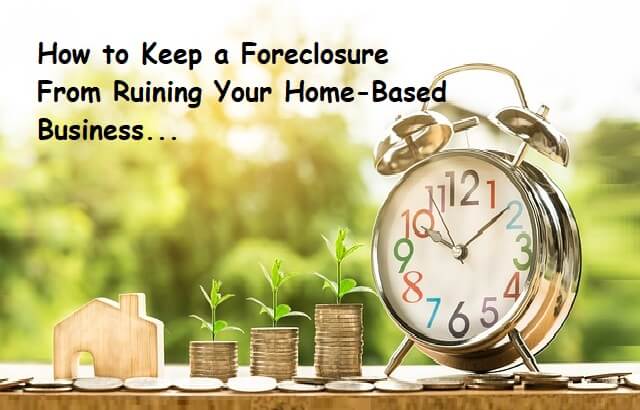 How to Prevent a Foreclosure From Destroying Your Home-Based Business
Although foreclosure rates in the U.S. have dropped to a 13-year low with less than 625,000 foreclosures in 2018, foreclosures are still a reality. You have enough business expenses like insurance, contractor labor, and taxes. The last thing you need is a foreclosure followed by bankruptcy.
A foreclosure isn't pleasant, and if you're running a home-based business, you need to do everything possible to make sure it doesn't happen to you.
Contact your lender as soon as you realize you're struggling
When you first realize you've got a problem, that's when you should contact your lender to ask for help. Don't wait until you've missed two payments. The further behind you get on your payments, the less enthusiastic they'll be about helping you. Lenders usually have options to help struggling borrowers so it never hurts to ask.
Your lender might be willing to let you make one late payment without penalty, skip a payment, or postpone a payment.
Know your rights concerning your mortgage
You probably don't have your mortgage terms memorized, so find your loan documents and review the sections concerning late or skipped payments. Your lender is bound by the terms of your loan agreement, too.
Additionally, familiarize yourself with your state's foreclosure laws and timeframes so you don't get sideswiped or lied to.
Request a loan modification
Sometimes it's not enough if your lender simply extends your payment due date or allows you to pay late without penalty. Sometimes you need a modification to your loan long-term to make it possible for you to pay.
According to Michael H. Schwartz, P.C., you have the right to request a mortgage loan modification from your lender, but they're not obligated to provide that modification. If your lender denies your request, you'll be sued in foreclosure. During that time, you'll have the chance to sit down with a mediator to work out an agreement between you and your lender.
If you pursue mediation, make sure you're represented by a foreclosure defense attorney. An experienced attorney will know every aspect of foreclosure inside and out and will help you save your home. The alternative is getting sued for money you don't have and filing for bankruptcy.
Sell some of your assets
What's more important: your home or your jewelry? If you can buy some time by selling some of your assets to pay your mortgage, do it. Physical items can be replaced, and after you sell some of your stuff, you may find you don't miss any of it.
Things like action figure collections, baseball cards, comic books, jewelry, designer handbags, and watches will sell quickly in your time of need. You may even consider selling your second car. Just don't forget to pay taxes on the assets you sell.
While selling your assets won't solve your problem long-term, it will show your lender you're serious about making your payments. If you can gather the money to pay your past-due amount, your lender might be more willing to help you further with a loan modification.
Don't ignore correspondence from your lender
When you're late with your mortgage, you can count on hearing from your lender with a phone call or letter in the mail. Knowing you're late on your mortgage payment doesn't mean you shouldn't open the letter. The letter might include an offer to modify your loan or work things out in another way.
If you're behind by several months, you definitely don't want to ignore any letters from your lender. At that point, letters from your lender are likely to request for payment of your loan in full and/or notification of impending foreclosure.
Keep your home and your business
If you fall behind on your mortgage and end up in foreclosure, where will you run your business? If you're mostly working online and don't need to store products or work in a real office, you'll probably be okay. However, if you're running a business that requires handling goods or meeting with clients in a private space, you'll be out of luck.
If you run a home-based business, you have a good reason to do everything in your power to prevent a foreclosure on your home. You can always find a room to rent, but you can't run your business without a home.