How tech can help your company to offer an improved package of employee benefits
Your company's benefits package should be the perfect balance between attracting potential employees and retaining current employees. How do you achieve this? Technology, of course. Technological innovations are improving employee benefits like never seen before, and it is time your company starts investing in them too.
The need for employee benefits
What exactly is all the fuss about employee benefits? Well, first of all, you are probably more likely to attract more job candidates with an employee benefits package compared to those without one. Not only will it appeal to new employees, but it is also useful for reducing employee turnover and improving employee retention.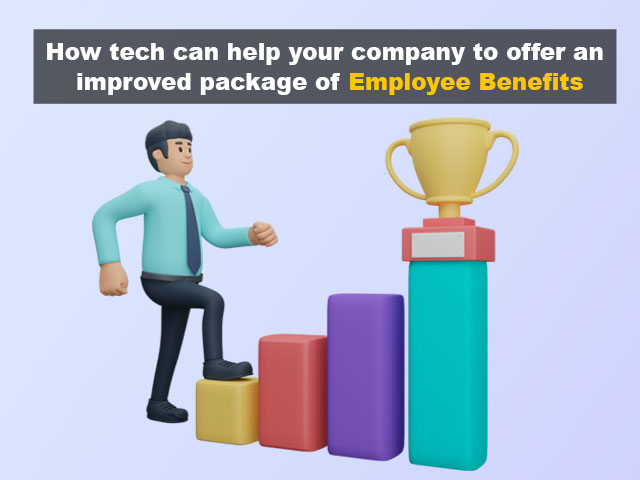 With employee benefits, you can expect an overall more positive workforce with increased mental and financial well-being. This is particularly important in today's current cost of living crisis which is affecting around 49% of people in the UK as of 2022.
As a result, it is not surprising that employee benefits have garnered much more attention than in the past decade, which can also be attributed to the COVID-19 pandemic. Nevertheless, there is undoubtedly pressure on companies to offer exceptional employee benefits.
Tech-based employee benefits
How can tech help improve employee benefits? Here are some ways we have outlined the use of tech in employee benefit packages:
Personalizable app or benefits portal – implementing an app or portal that employees can download to view and track their benefits is incredibly useful. On this app, they are able to see what benefits they are eligible for and which ones they have started using, etc. This can add a more personal touch to an employee's benefits package, as well as grant them the ability to customize what benefits they want to see on the app and which ones to hide if they do not use them at all.
Digital health solutions – in a post-pandemic era, of course, employees would like to see health on-demand solutions. This may range from health analytics (heartbeat, stress levels, sleep analysis) to mental health and well-being options (meditation apps), to exercise programs to nutritional and diet recipes or information. It may be worth investing in group income protection as well to provide that extra financial care for when employees fall ill.
Gamification – introducing game-like interactions or competitions on a rewards portal for example can be a fun way to engage and motivate employees. This may involve quizzes that promote health or well-being information which can help employees learn and understand the topic. Or, a challenge such as achieving 10k steps daily or drinking 2 liters of water every day for one week. Particularly with an incentive, which can either be a material prize or work-related such as an early finish or late start or increased lunch hour, this can really help to engage your employees with the benefits portal itself.
Final thoughts
In a society where technology is ubiquitous, and health and well-being are more prominent than ever, it would be a good idea to wield tech effectively to provide an enhanced employee benefits package. And with these ideas in mind, all you need to do is evaluate which options will best suit your team.