Hadoop Ecosystem Tools
Vast amounts of data stream into businesses every day. With the help of Big Data analytics, unearthing valuable information from the massive repertoire of data has become faster and more efficient. Hadoop is one such framework used for the storage and processing of big data.
Online Hadoop training will not only authenticate your hands-on experience in handling big data but will also boost your career in the field of big data analytics. But first, let us look at some of the latest Big Data analytics trends and the top tools that are dominating the Hadoop ecosystem.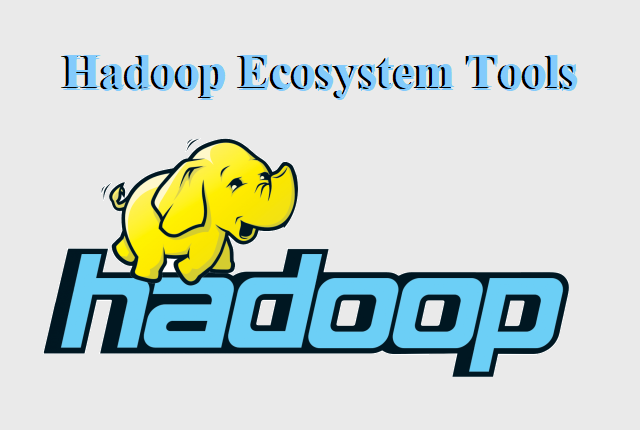 Recent Trends in Big Data Analytics
The growing importance of information and data within organizations has brought about an unprecedented spur in innovation and development in the realm of Big Data analytics. In this light, we will summarize the hottest trends in Big Data that are likely to create a buzz in the ongoing year:
Automated tools and frameworks will continue to drive AI and Machine Learning algorithms into industry-level production.
IoT has seen crazy growth since 2018 and will continue to augment real-time business opportunities in 2020.
Digital twins or real-time data-powered digital replicas of people, systems, places, and physical objects, will continue to grow. It is estimated that nearly 21 billion connected sensors will power potential digital twins in 2020.
More and more companies are shifting to hybrid and multi-cloud deployments from fully on-premises storage platforms.
Data integration through cloud-based tools and platforms will eliminate data silos within organizations to establish data visualization and storytelling.
The emergence of cold data storage solutions such as Google's Nearline and Coldline and the Azure Cool Blob has enabled optimization of cloud costs.
Organizations processing real-time data will see a decrease in cost and latency through the complementary use of cloud computing and edge computing.
Self-service analytics and DataOps will evolve as significant trends in 2020, allowing a smooth collaboration between operational data management and businesses.
What is Hadoop?
The Apache Hadoop software library is a set of procedures and programs that allows large data sets to be distributed across computer clusters by using different programming models. The software is open-source, which means that almost anyone can freely modify it for Big Data operations. Hadoop utilizes four modules for carrying out various tasks related to Big Data analytics-
Hadoop Distributed File System – It allows the storage of data across several connected storage devices. The data can be easily accessed on any computer with a supported OS.
Hadoop MapReduce – This module performs two basic operations – mapping the data into a suitable format for analysis after reading from the database and carrying out mathematical operations.
Hadoop Common – It provides the Java tools that are needed by the computer systems (Windows, UNIX, etc.) of the users to read the data stored in the Hadoop file system.
Hadoop YARN – This module is responsible for the management of the systems and cluster resources that store the data and run analyses.
Hadoop has several benefits to offer:
Data variety and volume is on an ever-increasing rise. Hadoop offers quick storage and processing of enormous amounts of data.
Since Hadoop has a distributed computing system, it has the high processing power and can process Big Data with high speed.
Hadoop comes with a robust fault tolerance mechanism, that is, the processing of data and applications is immune to hardware failures.
Hadoop is flexible— data does not need to be pre-processed before storage. Unstructured data like images, texts, and videos can be stored for later use.
Since Hadoop is an open-source framework and uses commodity hardware, storing large amounts of data becomes cost-effective.
Hadoop is highly scalable; if you want your system to handle more data, you can add nodes with the least administration.
Top Hadoop Ecosystem Tools
A Hadoop online training will, no doubt, help you master Hadoop skills but first, you should have a basic idea of the different tools and features available in the Hadoop ecosystem. Here, we have presented a list of some of the most popular Hadoop tools that will help you ace the game of Big Data analytics:
MapReduce – Developers use this software framework for writing applications that will process large datasets in parallel across several nodes in the Hadoop cluster.
Apache Spark – It is an open-source engine for unified analytics. Spark is an extension of the Hadoop MapReduce and can perform additional computations such as stream processing, interactive queries, batch processing, etc.
Apache Hive – It is data warehouse software for data summarization, analysis, and query. Hive offers an SQL-like interface that can be used to query the data stored in different file systems and databases.
NoSQL – It is a solution when you want to query unstructured data; that is, NoSQL is a query language with no structure.
Talend – It is a software vendor that can be used to manage all aspects of Data Integration such as extraction, transformation, and loading using the ETL system.
Oracle Data Mining – It provides robust algorithms for data mining that can be used by data analysts for discovering insights, making predictions, and leveraging Oracle data and investment.
HBase – It is an open-source, distributed, NoSQL database, written in Java. Built on top of Hadoop, HBase is used for retrieving small amounts of data from vast datasets.
GIS tools – These are Java-based tools used with Hadoop for understanding geographical information like handling Geographic Coordinates, integrating maps in reports, and publishing online map applications.
Apache Zookeeper – It is a coordination service used for synchronizing distributed applications across a cluster.
R – It is an open-source programming language that allows data analysis, statistical analysis, and machine learning. Written in Fortran and C, R can be run across multiple OS.
Conclusion
Hadoop is open-source, cost-effective, high-throughput, fault-tolerant, scalable, and compatible across multiple platforms. It has its shortcomings like vulnerability, security, and overhead processing issues, but these drawbacks far outweigh Hadoop's benefits. When it comes to Big Data analytics, Hadoop is an ideal choice. So, sign-up for a Hadoop online training course today!