They say timing is everything, and when you've been thinking about getting your CPA license, timing is more critical than you may realize. You only have 18 months to take (and pass) all four sections of the CPA licensing exam. That's just a little more than four months to study for each section. If that sounds like a long period of time, think again.
Even with four months to study each section, the CPA exam pass rate is just around 50%. That means about half of all the people who take the exam fail. The exam is challenging, but a low pass rate doesn't mean you're doomed. You could be part of the 50% who pass the exam if you start studying now.
You also need to meet state requirements to sit for the CPA exam, which might require additional study and effort on your part. If you need more work experience before you qualify for the exam, start now, so you don't have to wait too long.
If you're still on the fence, here's why right now is the perfect time to commit to passing the CPA exam.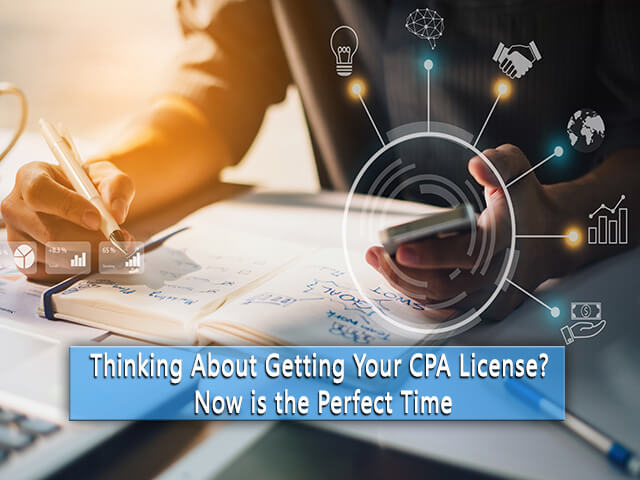 COVID-19 commands a remote working future
When you're a licensed CPA, you don't have to work in an office. You can work for yourself online, or you can work remotely for a corporation. If you get licensed now, you'll be ready for a possible mandated remote working future imposed by the coronavirus pandemic.
The coronavirus pandemic has forced many businesses to move operations online if they want to survive the shutdowns. The ability to work from home has been a dream for many, but it's also setting the tone for the future.
In the future, businesses will need to have an online presence to weather the storms of more shutdowns. Even essential businesses can't operate at full capacity during shutdowns and will be required to do business online to survive. By establishing your CPA certification now, you're giving yourself a guaranteed source of potential income throughout any future shutdowns.
Freelance CPAs don't have significant overhead
Of all the businesses you could start, freelancing as a CPA will generate a minimal amount of overhead. You'll avoid all the traditional costs of running an office like rent, payroll, equipment, utilities, cleaning, and more. You'll still need to pay your own rent and utilities at home, but you won't have a separate, much larger collection of bills for an office.
Why is cutting your overhead important? Your income will depend on other people signing up for your services. The way the economy is moving into a recession is already making it harder for people to afford high prices for necessary services. You may need to offer special deals to some of your clients, and you can only do that when your expenses are already low.
If you're not interested in running your own business, search for job listings that will place you as an available service provider from sites like Upwork. Upwork has plenty of Certified Public Accountants to choose from. If you can get on their list of service providers, you'll generate jobs effortlessly.
Do you have personal passions to pursue?
If you've got personal projects you want to pursue, get your CPA license as soon as possible. When you start working for yourself, you'll have more time to pursue your personal projects.
If you're not yet convinced there are good jobs out there for freelance CPAs to work remotely, browse the CPA jobs on FlexJobs to see what's being offered. There are full-time, part-time, onsite, and remote jobs available with varying requirements.
The sooner you get licensed, the faster you'll get paid
You'll probably want to take the entire 18 months to study for and pass all four CPA exam sections. The sooner you get your license, the faster you'll start generating income. Income is the best motivation around for committing to passing the exam.
According to ZipRecruiter, a CPA's average annual salary in the U.S. is somewhere between $52,848 and $83,831. That's a minimum of $4,404 and a maximum of $6,986 per month. Of course, you're not limited by these figures. You can generate as much income as you want, provided you have the time and energy.
Prioritize getting your CPA license
Commit to getting your CPA license today and in 18 months, you could have the foundation necessary to earn the income you deserve.