The ambiance is one of the most important factors that determine the look and feel of your restaurant or cafe. The best way to improve that 'look and feel' is by adding a set of premium decors in it. When it comes to decorating a room of a restaurant, retail shop, office or resort, the furniture plays an important role. The quality of the room or the closed place is largely evaluated by the quality of furniture furnished in it.
For example, even a potential customer will turn away if he/she is welcomed by a dull shelf being used in the place. Importance of furniture is significantly high for hotel owners and they cannot afford to irk the guests with noisy beds and rough tables.
When we talk about premium furniture, there are various materials that are used to make it. Many people prefer iron due to its durability and the capability to remain termite-free. Other people prefer wooden and leather furniture for their luxury and design. All these products are designed to provide a certain level of satisfaction.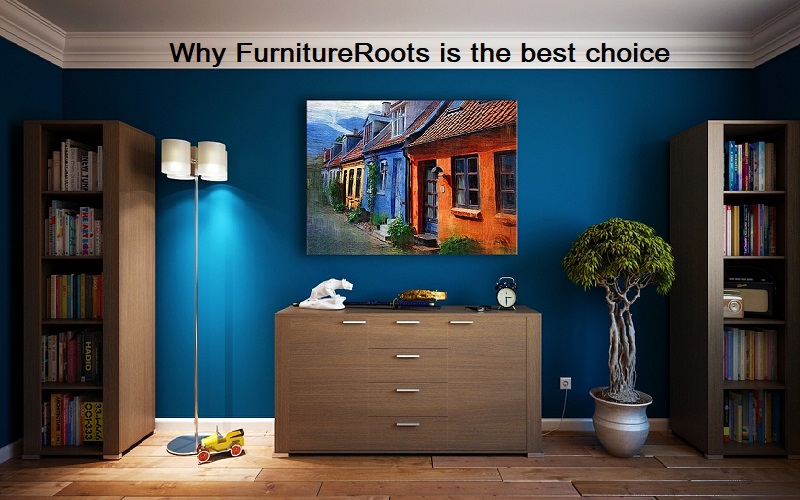 Here's why FurnitureRoots is the best choice if you are looking for premium quality furniture
Many online furniture stores assure that their furniture is the best as compared to their competitors. But only a few companies like FurnitureRoots provide premium-quality furniture.
There are many reasons why FurnitureRoots is the best for premium-quality furniture, and why you should opt for them:
Increase in demand for premium furniture
With the increase in the purchasing power of the customers, the demand for premium furniture has drastically increased. The hotels, restaurants, bars, and resorts are also competing with each other in terms of impressing customers. To impress their guests, they are opting for premium furniture to improve their ambiance. Due to the surge of demand for the premium furniture, and FurnitureRoots being the most reputed manufacturers of such furniture, it is by default why this brand is the best choice.
Wide variety of furniture that meets global standards
FurnitureRoots uses materials like wood, leather, and iron to craft a huge range of furniture. Apart from this, the company understands the safety regulations followed by premium hotels. FurnitureRoots is an ISO 9001 company and it creates furniture keeping in mind the global standards.
Premium Furniture for every niche
FurnitureRoots understand that different industries require different sets of furniture to match their profession. They manufacture furniture as per the needs of different industries. Like for hospitality businesses which include hotels, resorts, restaurants, they need furniture which is very attractive. On the other hand, a commercial business which includes offices, Co-Working Spaces, etc, will need furniture which has a lot of storage space and is durable.
For architect/ designer business, which includes interior designers and other similar professions, they require furniture which can be customized according to the theme of the room. Therefore, for every kind of industry and it needs, FurnitureRoots has the perfect furniture to offer.
Experts in Traditional and Modern Furniture
FurnitureRoots specializes in creating customized premium furniture. Their innovative designs make this brand perfect for creating furniture for your business that will help you to stand out among your competitors. They have a wide range of furniture for hospitality, commercial and even for the export industry. The quality materials and unique design of the furniture, makes FurnitureRoots stand out among other their competitors.
Flexibility to take up various projects
FurnitureRoots also undertake different projects. In these projects, they make all the furniture needed for that particular place. These projects include hotels, resorts, restaurants, and many other places. In addition to furniture, they also provide other items that their customers need to make their project a complete success. They accept all kinds of projects from resorts to bars and hotels.
Leading furniture manufacturer
They are the leading furniture manufacturer and exporter in India and they deliver furniture to more than 100 cities. The company has a vast range of B2B furniture for Hotels, Resorts, Restaurants, Cafes, Bars, Nightclubs, Interior Designer's projects, Made-to-Design for Architects, Rooftops, Gardens, Offices, Libraries, Clubs, Schools, Office Cafeterias, Food Courts, and for many other places.
Separate Segment for Interior Designers
They also have a segment for the designers and architects. The choices of designers and architects will differ from normal people, so they have categorized the segment into the furniture of decor, look, style, and period. Look furniture includes classic, ethnic, modern, and other types of furniture.
The period furniture includes old furniture of the 19th century or early 20th century.
Amazing Clientele
Their client list includes companies like TATA, Microsoft, German Bakery, and many more. They also make contract furniture & turnkey furniture. With having a presence in over 30 countries, they work on projects related to huge multinational companies.
Affordable pricing
FurnitureRoots offer varieties of designs at a very reasonable rate. It is for this reason their clients prefer to buy from FurnitureRoots. All these products are made from genuine materials and are designed with the help of master craftspersons.
During a project, lots of other work is required other than making furniture. All these include drawing, quotes, and timeframes as per the customer to ensure customer satisfaction is met.
Custom Furniture
Many big brands refuse to customize any furniture. Buy FurnitureRoots promote custom furniture making. Custom furniture is the best option, especially for interior designers.
It is better to custom design furniture rather than wasting your time and effort in searching for the perfect furniture. Customized furniture saves a lot of money, and a customer will have more control over the product, like the material, height, length, etc.
All these when added to the image they have made for themselves, it makes them the best company for premium-quality furniture. Their clients are located in more than 30 countries around the globe, and all of them are satisfied with the products offered by FurnitureRoots.