Social media has become an integral part of everyone's life. From communicating with friends to knowing about what's happening on the other side of the world, social media is now being used for various purposes. But along with using the large social media sites with billions of users for entertainment, communication, getting connected, and showing your opinion, it is now being used for marketing the business as well.
Social media marketing is no more an option for business as without including social media, no online marketing plan can become successful.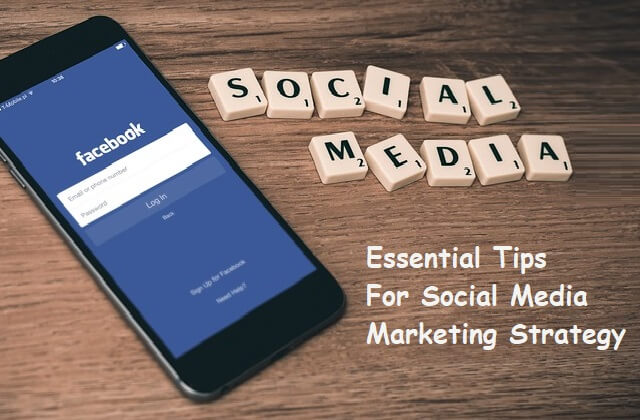 Essential Tips For Social Media Marketing Strategy
Many people think that social media marketing is all about posting about products, replying to comments, and creating ad campaigns, but in actuality, social media marketing is much more than that. To make your social media marketing strategy successful, there are many things that you need to keep in mind.
Therefore, in this blog post, we will discuss some of the tips that you can use to improve the performance of your social media marketing strategy.
Start with identifying your goals
You should always start by defining your intentions before making a social media marketing strategy. This will allow you to be clear about what you want from your social media marketing strategy. The simple rule of setting goals before making new plans works well in this case as well. You can identify and set your goal by using the SMART approach which is:
Specific: Narrowing down your expectations.
Measurable: Your goal shouldn't be something that can't be measured quantifiably.
Attainable: Always set goals that are practical and can be achieved.
Relevant: Your goal must be related to the bigger picture and the audience.
Timely: Stay on track by dividing the overall into small goals so that they can be achieved on time.
Focus on messaging
Every social media platform that you will be using will have different demographics. In many situations, there will be an overlap of people whom you will be targeting on various platforms. But even in such cases, it is imperative to have in-depth knowledge about your demographics. This will help you in customizing your message so that its impact can be multifold.
With a more focused message, you will be able to create more engaging and relevant content, and thus, the ROI of your social media marketing strategy will improve. Staying connected to your audience on social media platforms is very necessary, and that can only be done if you have a focused message.
Build relationships
The most unique and profitable benefit of the social media platform is that it allows you to interact with your customers directly. So, instead of directly pitching sales, you can first work towards building a relationship with your followers. This is the main reason why most of the people who follow SMEs on social media platforms plan to purchase from the SMEs they are tracking even after having multiple other options.
Whenever anyone engages with your organic content, you should immediately jump in and reply. This will allow you to improve your relationship with your followers, and later the same followers will become your loyal customers and ambassadors.
Keep checking what's trending
Knowing what's trending on social media sites will help a lot in constantly improving and creating a relevant and excellent social media strategy. You should always keep an eye on what's trending on social media platforms. If you find an approach rising on a particular social media site, then you can use it to drive engagement. There is no need to create content based on what your competitors are doing; instead, following the trend and aligning your strategy with the growing trend is a better option.
Making a social media strategy successful is not rocket science. Just by understanding some basic things about social media platforms and new-gen marketing strategies, you can get bankable results from your social media marketing efforts. Use social media platforms wisely and see the improvement in your overall marketing strategy.