Do you require employees to use a VPN to protect company data when working remotely? If so, you're ahead of a large number of organizations that risk their data security daily.
Employees who use unsecured networks in public places, such as a coffee shop or libraries, are putting company data at risk. This can include remote employees as well as contractors and even other organizations you do business with. Requiring employees to use a VPN when using public Wi-Fi should be every organization's policy.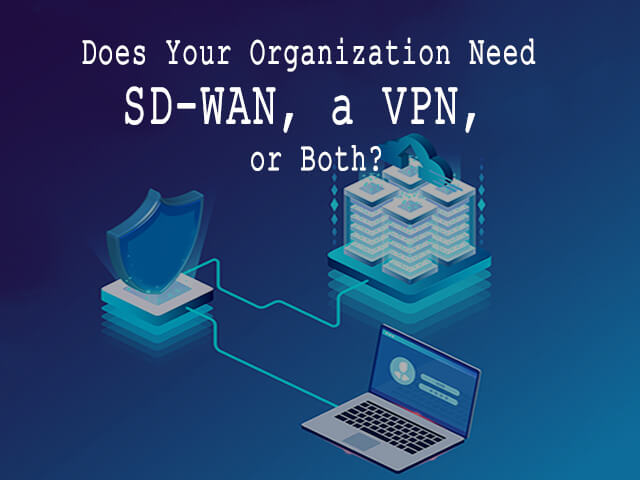 Should Your Organization Trade Your VPN for SD-WAN?
In light of the COVID-19 pandemic, more people are being granted the option of working from home. Typically, only about 7% of U.S. workers work from home. With workforces shifting to a digital format at warp speed, that percentage is quickly rising. With that rise comes more potential for network security breaches.
VPNs offer adequate protection only for some businesses
Virtual Private Networks (VPNs) are a good solution for creating a secure connection between a remote employee and your company network. A VPN will encrypt all outgoing and incoming traffic to prevent eavesdropping. A VPN also makes it easy to perform security scans on all outbound traffic leaving your company network.
However, if you plan to scale your organization, you'll run into some flaws. For example, VPNs only work as a point-to-point solution. Each new employee added to the company will require a new VPN line to connect to the company network. Since each VPN connection is independent, you won't get full visibility into your network traffic unless the VPN itself has advanced visibility features built-in.
SD-WAN solves some of these problems.
What is SD-WAN?
A Software-Defined Wide Area Network (SD-WAN) provides secure network connectivity along with plenty of integrated network security solutions. For example, SD-WANs can automatically identify and route traffic based on configured policies and priorities. That's not all SD-WAN can do for a network. There are several other benefits:
Traffic is identified based on its source application, which allows for stronger automated security enforcements.
Traffic inspections are performed by multiple SD-WAN instances deployed across the network. This reduces the strain on the main network headquarters.
There is full visibility across the entire network.
Multiple transport media can be used to route traffic securely. For example, MPLS, LTE, and HFC are all supported by SD-WAN.
SD-WAN provides direct internet access.
The downsides to using SD-WAN
Nothing is ever a perfect solution, including SD-WAN. The biggest downside to using SD-WAN is the need for a physical device at each branch location to route traffic through the corporate network. Also, securing a software-defined wide area network requires effort; it's not going to be secure right out of the box. You'll need to consult with your network administrator and determine what security measures need to be in place to provide the right level of protection for your network.
Does your organization need SD-WAN, a VPN, or both?
While there are several overlaps between VPNs and SD-WANs, your organization might only need one and not the other. If you're a growing organization, however, you'll probably need both.
If you don't have a company network, you only need a VPN
SD-WAN is designed to secure your company network. A VPN will be adequate if you don't have a network (or intranet), and your team uses a-la-carte software solutions you can't control. If that's your situation, a VPN is all you need to secure your personal connection to the internet.
Do you have remote employees? You need a VPN and SD-WAN
Panels from the March 2020 WAN Summit (held online due to the coronavirus restrictions) discussed how SD-WAN makes it easier for businesses to implement a full remote workforce.
If you have remote employees or work with contractors that work outside of your office, you need to provide them with a secure connection to the company network.
Are all of your employees in-house? SD-WAN might be all you need
If all of your employees work in-house and there's no possibility that anyone would work from a coffee shop or other public place, you might only need SD-WAN. When all of your employees connect to the company network directly, there's no need to use a VPN. Any network security measures you need can be implemented with SD-WAN.
However, before ditching your VPN, consult with an IT security and network specialist to make sure you're making the right choice.