Drones known as UAVs (unnamed aerial vehicles) are becoming indispensable in several industries. With drones, you can manage a vast majority of business operations.
These versatile tools can change the operations of your business or help you to start a new business. Several other tech devices, the market has fierce competition, so you can get affordable drones.
If you want to buy a cheap drone, visit this site https://www.outstandingdrone.com/drones-under-300/. Affordable drones come with special features, such as: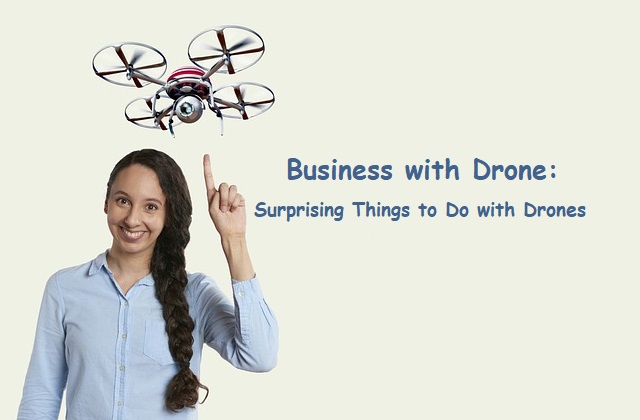 Business with Drone: Surprising Things to Do with Drones
Bluetooth capability
4K cameras to take high-resolution images and record videos
Collision avoidance
Terrain follow (these can maintain the right height while flying on uneven terrain)
Ability to fly at 80 km/hour (50 mph) speeds or more
Active tracking
Reliability, safety features, battery life, and distance controls are consistently improving. If you have a drone, you can start drone services. Here are some ideas for you.
Photography
Before the development of drones, taking video or photographs from the air was expensive. The photographer takes a rental helicopter or fixed-wing aircraft.
Nowadays, drones are available with a high-resolution camera to take aerial images. You can safely operate your drones at a lower altitude and in confined places.
Filmmakers and photographers regularly use drones to record high-quality video and pictures from the air. With drones, you can capture real estate, sporting events, landscapes, weddings, wildlife, and other activities.
Security Surveillance
Commercial and home security is an essential industry for business with a drone.
A drone helps you to capture live video footage of home intrusions and transmit these videos to your smartphone. With these videos, it will be easy for you to notify the police. With the help of drones, you can detect water leaks and fire threats on a property. 
Rescue and Search
Drones become indispensable tools to start rescue and search operations in different locations. With affordable drones, you can carry on search operations.
Fortunately, drones can travel to different areas where helicopters can't travel.
Drones are equipped with night vision or infrared sensors to make it easy for search and rescue teams to detect missing people by heat emissions. With the use of drones, you can send emergency supplies.
Building Inspections with Drones
A physical roof inspection can be hazardous and costly, especially on multistory structures. With particular drone technology, you can safely inspect a building.
It can be a great idea to start your business with a drone. Drones can closely examine the exterior of buildings and deliver high-resolution videos of gutters, roof, building envelope, and chimneys. With these videos, building owners can detect problematic spots in a building.
If you are working as a building inspector, feel free to add a service of drone inspect to earn money.
Underwater Inspections
With submersible drones, you can start a business of underwater inspection.
These drones are easy to control with remote, smartphone or laptop. You can submerge them in 100 meters deep water.
Submarine drones are equipped with lighting to take high-resolution video and underwater images. With these drones, you can start environment assessments or aquaculture.