In this digital age we live in, businesses all around the world have a large amount of their corporate value tied up in digital assets. With countless companies constantly creating new videos, podcasts, webpages, and social media posts, there are perils that could cost them a lot of time and money and even hurt their reputation.
"Digital fragility" is a genuine threat to today's businesses, and learning all you can about digital preservation and why to use a website archive is critical. Basically put, website archiving is the use of web crawling to take a snapshot of your website and archiving the digital content on a separate platform where you can retrieve them on-demand.
This is done on an automatic and regular basis and as you'll see more, there are several benefits of implementing this practice.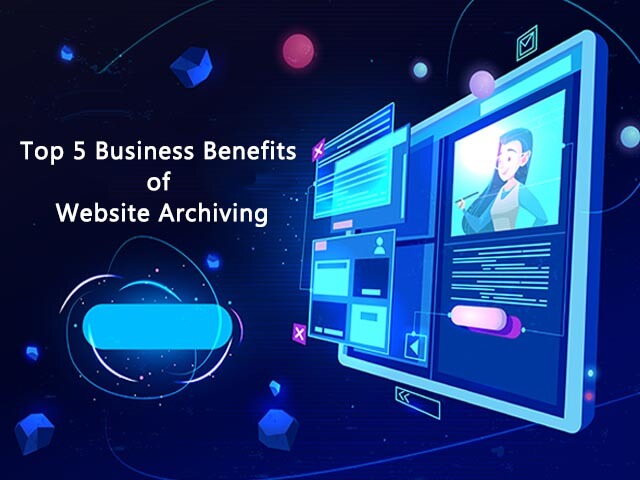 Have a Backup Plan
The longer your website is around, the more it is vulnerable to fragility. Just last year, Myspace lost all content that was uploaded before 2016 and customers that had been there for many years lost millions of songs, videos, and photos.
However, even the loss of a single page could have far-reaching ramifications with broken internal links, backlinks, and the drop from search engine result pages (SERP). Preserving your business's digital assets isn't simply a best practice though. Older content can help spawn future marketing campaigns and enable you to continue benefiting from that material.
Top Benefits of a Website Archive
While your website may not have as much content to lose as Myspace did and you probably haven't been around as long, that doesn't mean that archiving isn't just as important for you.
Digital preservation helps protect your business from your brand assets and intellectual property being compromised or lost. Your website likely contains valuable branding assets such as logos, specific marketing campaigns, and videos and if they are lost or compromised or you are the victim of trademark infringement, you lose large amounts of commercial value to your brand. Here are five of the most important reasons to create a website archive:
1. It preserves all of your digital assets, not just the operational-critical data that typical back-up services provide.
2. A website archive enables you to create complete and fully navigational records of your brand' journey.
3. It can help you meet certain record-keeping regulations, such as the FCC's rule 4.11.1.
4. A website archive gives you better protection against complaints and claims. This alone can be virtually priceless in defense against a complaint situation that arises when you're able to prove your side with a 100% accurate and irrefutable archive.
5. It completely prevents your digital content from being lost. Better than traditional backups and much more effective than simple screenshots, a website archive ensures that you always have all of your content.
Leaving your digital assets vulnerable to compromise or loss is really playing a game of digital Russian Roulette that could be enormously costly. Therefore, it's imperative that you implement digital preservation and protect your company's legacy.