Have you ever considered a career in engineering? If so, you were probably astounded at all the various levels of engineering there are and just how many types of jobs you can do in literally every industry known to man.
Added to that is the fact that you may even be called upon to use two or more disciplines within the field of engineering just to complete one project. Of course, that depends on the size of the company you are working for, but if you are one of just a few engineers, you may need to change your thinking cap several times within the course of a day.
An Infinite Number of Jobs You Can Do with an Engineering Degree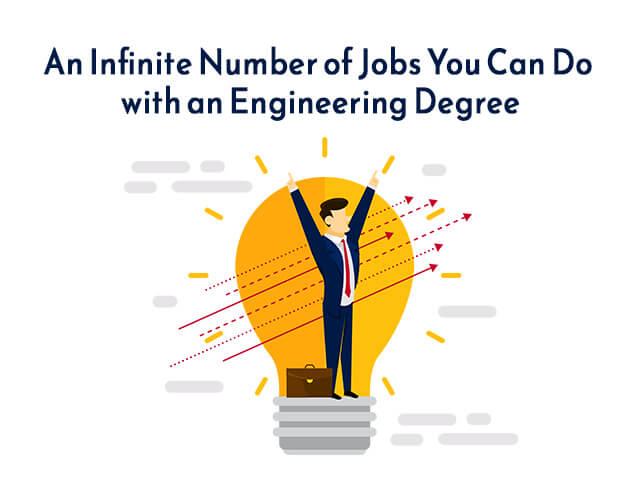 One example of engineering that covers multiple elements within a single discipline, which we'll introduce in a moment, would be an MS Engineering-ECE-Advanced Mobility from an innovative school like Kettering University. Yes, they are closely related and part of the same degree program, but not all advanced mobility engineering jobs will be Electrical and Computer Engineering.
There are other disciplines involved such as mechanical engineering as well. Without getting too far ahead of ourselves, let's just leave it at the very real need for engineers in every discipline for product development and design.
A Brief Definition of Engineering
There are several really good definitions of engineering but, in essence, they are very much the same. Engineers either seek to modernize older technology or to design new products using the foundational principles of mathematics and/or science. The intent is aimed at bettering the quality of life of mankind.
Some would take it several steps beyond that understanding of engineering by saying that there is a broad ecosystem and so engineering is a philosophy aimed at bettering animal as well as plant life and anything that is part of the ecosystem. Do all of these innovations better man? Probably most do, but if humans were taken out of the equation, engineering focuses on improvements, in its most basic definition.
Here's another really great look at just what engineering is and does. According to the US Department of Labor, there is a difference between what it is that a scientist does and what it is that an engineer seeks to accomplish.
The scientist, according to the DOL, seeks to "discover physical laws" whereas the engineer seeks to put those discoveries to use in the development or betterment of products. In other words, engineering is the bridge that connects discovery through science to the applications within products.
Bear in mind that while there are five major disciplines within the field of engineering, the number of jobs available is quite literally infinite. As mentioned, there probably isn't a product on earth that was ever developed which didn't start with scientific discovery and the creation of that product through engineering.
So, how many jobs can you do with an engineering degree? It would take more than a lifetime to count them all.
The Five Major Engineering Disciplines
This is where we start to get into the backbone of what engineering is and what you can really do with that degree. Bear in mind that a basic entry level position can start with a Bachelor of Science in Engineering but the further you advance in your respective discipline, the more advanced you will want that degree to be.
While higher earning power is to be desired, that isn't the reason you should shoot for a Master's degree or a Doctorate. The knowledge and expertise you gain with an advanced degree in engineering brings you to the pinnacle of product development.
That's something to strive for! Wouldn't it be nice to go down in history as 'the' person who developed cutting edge technology solving one of mankind's most urgent issues?
1. Mechanical Engineering
If ever you are looking for a career that offers a diverse choice of jobs you can do with just one degree, it probably would be mechanical engineering. Among the specific duties they have, mechanical engineers are involved with:
Research
Design
Development
Manufacturing
Testing tools
Engines
Mechanical devices
There is something quite interesting in relation to working as a mechanical engineer because you would be working on machines that produce power, such as a generator that produces electricity, but you aren't going to be dealing with electronics that are powered by energy. Imagine having a dual major in engineering with the two disciplines being mechanical and electrical engineering.
How much fun would that be to have the ability to develop the energy-producing generator to go with the electrical components you are designing? With such a wide selection of materials, forces, energy, motion, and fluids to work with, you can get more creative than you had ever dreamed and there will never be room for monotony.
2. Civil Engineering
Civil engineering is really one of the most interesting fields within engineering. In fact, civil engineering goes back as far as antiquities because there is evidence of structures, highly sophisticated structures, that were obviously developed with the principles of science and mathematics.
Today, civil engineers do much the same work but there are hi-tech tools to make life easier on them. Yes, civil engineers still work with hand tools such as they would on a surveyor's job, but with GPS as finely-tuned as it is, quite often surveyors use a mix of both physical and digital tools.
A civil engineer's mathematical knowledge base should include both geometry and calculus but also the physical sciences. In a moment we'll take a quick look at some of the actual jobs civil engineers do but one thing should be apparent by this time.
If you want to work as a project leader or a foreman on a major construction job, for example, you may want to take your education up a notch and work toward a Master's in engineering.
Among their many duties, civil engineers will be called upon to analyze maps and surveys in order to work on planning projects. They also are often required to ensure that the plans drawn up are within budget.
Civil engineers must be well-versed in such things as environmental hazards, unsafe building materials (think lead and asbestos) as well as be up to date with OSHA guidelines. Civil engineers are among those most often on the job, out in the field.
Of great concern during this time of drought in the Western states, civil engineers are in high demand to design ways to increase water supplies to drought stricken lands via such routes as a series of canals or through aqueducts.
3. Chemical Engineering
If mechanical engineering is said to be the most popular discipline within the field, then chemical engineering can be seen at the opposite end of the spectrum. It is commonly believed that chemical engineering isn't as popular as the other disciplines because it really only has an indirect or complementary role within the process of product development.
Chemical engineers, then, design equipment for chemical plants along with devising the processes used in the manufacturing of chemicals. Products this equipment is used for would include:
Plastic
Gasoline
Synthetic rubber
Paper
Cement
Detergents
And so forth. So then, a chemical engineer doesn't design or develop the chemical but rather the equipment in which they are contained or the conduits through which they flow.
4. Biomedical Engineering
Biomedical engineering is a fascinating field to work in if you are sincerely interested in the betterment of man. As a matter of fact, this is the one field in which you will be working on projects directly related to the physical condition of humans. As well as developing technologies that design artificial joints, biomedical engineers also design much needed equipment such as dialysis and MRI machines.
At this moment in time, there is really a huge demand for what it is that biomedical engineers do because modern healthcare is becoming increasingly reliant on technology. Every day a new patient centric product is developed and at the heart of that is a biomedical engineer.
Although there hasn't been a lot of press given to what biomedical engineers are doing at this point in history, it can be assumed that they are working on devices that will enable long COVID patients to live a better quality of life with organ damage they had sustained. Many of the products we now have are sufficient but they don't add that something extra that will enhance a quality of life.
We know that biomedical engineers work on such things as dialysis machines and we know that kidneys are among those organs most often to fail. Consequently, if there is lifelong irreversible damage to any organ, it would be a biomedical engineer developing a product to facilitate what healing is possible and to alleviate any unnecessary suffering.
Among the principles that biomedical engineers call upon would be:
Mechanical
Electrical
Optical
Chemical
And other principles common to engineering. Again, it isn't known at this time exactly what kind of impact biomedical engineers will have on the recovery of our nation in post pandemic days, but we can be assured that they will make a definite contribution as the days progress. While there are some discrepancies in the way in which various people describe biomedical engineers, there is one thing for certain; this particular discipline within engineering has something to do with the medical field to a lesser or greater degree. It is biomedical engineering, after all.
5. Electrical Engineering
Since electricity is required in modern high tech gadgets and equipment, electrical engineers often collaborate with engineers from the other disciplines. Even solar power is converted to electricity and this is why there aren't very many products that don't involve an electrical engineer in some way, shape, or form.
An electrical engineer would be on the front lines in the development of any electrical product or component in terms of concept, design, and development right through to the production of those products. Some people refer to electrical engineering as the field where electricity is applied to products with the goal of meeting societal needs.
One thing to note here is that electrical engineers are in great demand because technology is continually advancing and it is electricity that powers that technology. As a result, electrical engineers do tend to be among the highest earners within the field.
Although salaries rise and fall with the cost of living index, it is possible to see averages and medians if you check out the US Department of Labor website, researching electrical engineers.
Jobs You Can Do with These Degrees
Although we briefly touched on the types of duties each of these engineers would be required to do, there are many, many jobs available, but they are really too numerous to list. In this next section we list just a few other jobs in each discipline so that you can get a better idea of which direction you would like to pursue in your education.
1. Mechanical Engineering Jobs
If you are looking for a job as a mechanical engineer, then you might inquire about positions such as:
Sales engineer
Design engineer
Systems engineer
Product engineer
As mentioned, there are numerous jobs within this field. This is just a brief sampling of what you may find out there.
2. Civil Engineering Jobs
If you are interested in building or rebuilding infrastructure, then civil engineering is the career for you. Civil engineers work as:
CAD technicians
Surveyors
Water hygiene engineers
Fire engineer
Transport planner
Urban planner
It has long been noted, and it's also the topic of political debates, as to just how outdated our infrastructure is in this country. Civil engineers will find job availability better than ever simply because recognition was called to the fact that our infrastructure is failing us.
3. Chemical Engineering Jobs
As with all the other engineering degrees mentioned above, chemical engineering has different specialties within the umbrella of a chemical engineering degree. It is said that there are no shortages of job availability in chemical engineering, but the most common jobs available are in the fields of:
Pharmaceutical development
Health care
Food
Petroleum
Electronics
It should also be noted that with the attempt at the globalization of health care, it is being recommended that students within this discipline take at least a semester or two of a foreign language, with the most common being Spanish.
4. Biomedical Engineering Jobs
While this isn't going to be a list of job titles, it will give you a good idea as to the kind of work you can do with a biomedical degree. Things you may work on include:
Genetic engineering
Clinical engineering
Orthopedic bio engineering
Rehabilitation engineering
Bear in mind that each of these are duties but they give you a very good idea as to what kind of job title you might have.
5. Electrical Engineering Jobs
Of all the disciplines within engineering, this may be the one that gives you the greatest opportunities. Because technology requires electricity, you will often be collaborating with other engineers from other disciplines. Some of the specific jobs you might have would be:
Scientific development
Navigation control development
Architectural firms
Your key takeaway here is that we are most definitely living in the age of technology, so your electrical engineering degree will be sought after and job availability is forecast to be high.