6 Ways to Keep Your Team Organized
With the new calendar year right around the corner, you could be staring at a list of proposed projects. New initiatives may mean new people, new workflows, and new deadlines. If you, as a manager, want to stay ahead of the game, you must create a good foundation. That means getting your team organized.
These days, effective organization means more than maintaining a few up-to-date spreadsheets. Neat and tidy files aren't enough, either. To be successful, you must focus on your colleagues and the tools they need to do their jobs. If you need a little help getting started, keep reading. Here are six ways to get your software team rowing together in the right direction.
6 Ways to Keep Your Team Organized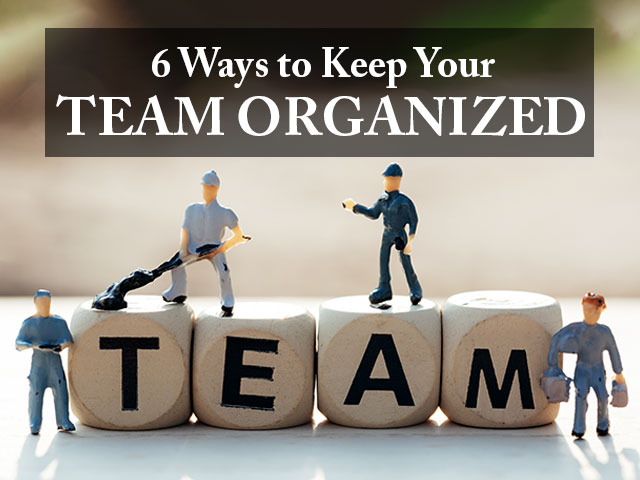 1. Set the Stage for Collaboration
Productivity almost always soars when teams work well together. Sure, it's great when your team members get along. That's not enough for effective collaboration, though. To reach the highest levels of organized teamwork, your co-workers need good project management tools.
Look for tools that help your project team create and keep track of tasks. These products make it easier to keep tabs on progress and know when "to-dos" are complete. Be sure you choose a platform that streamlines communication. Tools that have message and document-sharing functions can make working as a group is much more efficient.
2. Prioritize Being Effective Over Being Efficient
When you're creating your software team's organizational foundation, it's important to understand one fundamental aspect of productivity. Being efficient and effective isn't always the same thing. An efficient team checks as many things off the to-do list as possible. An effective one knows which tasks to complete first and which ones to work on later.
When you're facing a big deadline, it's tempting to focus on being efficient. You don't want your team to be the reason a client is dissatisfied because you finished behind schedule. Still, it's more important to get the work done correctly than quickly — the client won't be any happier about bugs and rework. Everyone impacted by your project will thank your team for their careful attention to detail.
3. Choose the Right Team Members
No doubt you have tons of talented colleagues. That doesn't mean everyone can work on just any project, though — each person has their individual strengths. If you want a well-oiled, organized group, be choosy. Outline the roles you need to fill first. Pinpointing the necessary skills will help you choose teammates who are the best fit.
Do you need a business analyst or quality assurance manager? Who will be the programmers and designers in charge of writing the code and completing the layout? When you're putting your team together, resist the temptation to include everyone. Bigger teams aren't always more productive; sometimes a smaller team is best. Communication and coordination are easier when only necessary people are involved.
4. Select the Right Team Structure
Every software team needs a clear chain of command. Everyone should know whom they report to and where to go if they have questions. Consequently, it's vital that you put the right team structure in place. To do this, you have a few options.
Typically, there are three structures you can choose from generalist, specialist, or hybrid. With a generalist structure, you're selecting people with broad skill sets to be on your team. If you choose the specialist option, you'll pluck only the people who have particular expertise and significant experience. A hybrid option gives you outstanding teammates who may or may not have specific familiarity with your assignment.
5. Be Direct and Clear About Objectives
In the working world, few things are worse than launching a project without a good idea of what the goal is. This is particularly true with software development projects. If the objective isn't clear, the team can turn out excellent code but still fail to satisfy the client's requirements. That's why having a clear roadmap from the beginning is vital.
From day one, have an outline for your project. Include task assignments, deadlines, and budget. It's also important to clearly explain all client expectations. Once everyone is on the same page, give team members the freedom and autonomy to do their work. Just be sure they know they can come to you with questions or concerns.
6. Create a Collegial Environment
Even the best-designed software teams will fall apart and become unproductive if teammates don't feel valued. As a manager, it's your responsibility to cultivate a worker-friendly environment. When developers feel relaxed and accepted, they will contribute more effectively.
To create this type of atmosphere, be sure everyone understands that mutual respect is required. Everyone should feel free to express their thoughts and opinions without worrying about being ridiculed. Team members should also feel comfortable bringing up issues that bother them. Do your best to maintain an open, honest work environment.
Getting a team of individual thinkers to work well together can sometimes feel like an uphill battle. Everyone has their own work style, and sometimes work personalities clash. Maximizing their productivity is possible, though. All it takes is a good organizational foundation.
Choose the right project management tools, implement the optimal team structure, and outline project goals clearly. With these key components in place, you'll be able to keep tabs on what your team members are doing and when they're reaching milestones. At the end of the day, this will help lead to your ultimate success.