4 Ways to Track Attendance at Luxury Events
You are putting together an event that you hope your guests will remember fondly for years to come, and every detail matters in creating the luxurious atmosphere attendees crave, expect, and deserve. Yet, as much as you might want your guests to forget about the practicalities of the event and indulge in whatever deluxe excitement you have planned, you still need to find ways to manage your event effectively, from the very first ticket sale to the departure of the last guest.
Attendance tracking isn't the most glamorous aspect of event management, but it is crucial for keeping many details of your event on course, such as security, marketing, and investment. Whether you want the guests at your luxury event to ignore attendance tracking or embrace it as another thrilling component of the event, here are a few ideas for tracking attendance in a magnificent manner.
Self Check-in
Self-check-in kiosks are becoming increasingly common at events — and it isn't difficult to understand why. When guests can check themselves in at an event's entrance, the event not only gains an efficient attendance tracking solution but also has the opportunity to save money on staffing, allowing a greater portion of the budget to go toward entertainment, food, decoration, or other more exciting elements.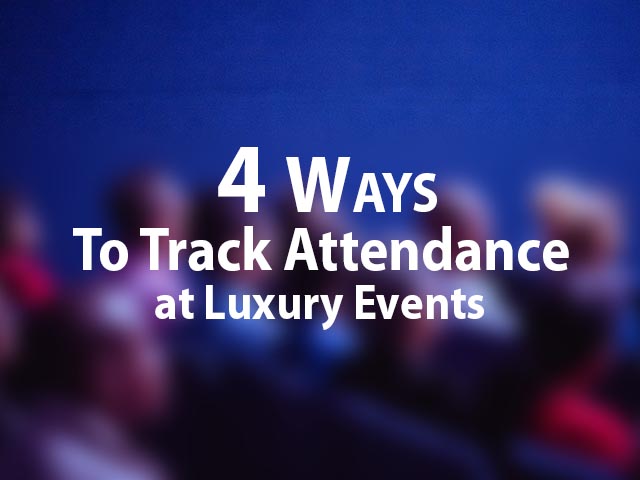 It is possible to take advantage of self-check-in solutions without compromising on the deluxe feel you are hoping to provide with your event. If your luxury event strives to highlight technological advancement and celebrate the potential efficiency of the future, self-check-in kiosks might be especially appropriate. You should try to integrate the design of these kiosks into your event's theming to ensure that your guests feel immersed in the event from their earliest interactions — and you should certainly have at least one staff member at hand to assist guests who struggle to use the technology.
App Check-in
An even more advanced and even less intrusive self-check-in solution is to have guests check in through an event app. Many event attendance tracking tools integrate with consumer-facing apps that guests can download onto their devices to buy tickets, learn event details, communicate with event coordinators and, of course, check in when the day of the event arrives. Some more sophisticated apps may only allow check-in when a guest has entered a defined geographical area close to the event, which provides greater accuracy in attendance tracking.
Some luxury event attendees will love the idea of a bespoke app, but some audiences will detest it. You might perform some research on the tech-savviness of your guests before investing in the development of an app. Even then, because your app is connected to a high-value, luxury event, you need to be certain that it is intuitive and reliable, or else guests will be dissatisfied with your event long before they attend.
Swipe Cards
An older check-in solution that many event coordinators have moved away from, swipe cards can be slow, complicated, and undependable for attendance tracking. Each guest must be assigned their own individual card, and they must be able to keep hold of that card for the duration of the event, or at least as long as they are able to leave and re-enter the event premises.
However, there are some benefits to swipe cards, especially for some types of luxury events. You may opt for swipe cards if you are hosting an event that will involve the exchange of money, like a casino night or a silent auction. Allowing guests to load their cards with cash before the event can make your event safer and more convenient for everyone.
Wristbands
Wristbands are arguably the most popular method of event tracking across all types of events. By counting the number of wristbands distributed, event managers can get a sense of how many guests have attended. Plus, there is great variety in the type and complexity of wristbands available, from inexpensive paper wristbands to high-quality, tech-integrated fabric wristbands, so coordinators can supply guests with a band that suits the style of their event. For your luxury event, you might opt to provide guests with a comfortable and stylish wristband that can be used for attendance tracking — perhaps printed with a QR code or built with RFID tech — but can also serve as an event souvenir.
You want your luxury event to meet your guests' grandest expectations, but you also need to consider the practical details of event management. Fortunately, you can do both with the attendance tracking ideas listed above.