3 Things You Should Look at When Hiring a Web Design Agency
There are literally thousands of web design agencies in operation around the world and it can be extremely difficult to choose a good one. Some of these agencies are legitimate, but a lot of them are misrepresenting themselves in some sort of way. Many web agencies are operating as middleman operation and hand the work over to a third party, for instance. You also have some people who do little more than fill up pre-made templates and sell them as their creations. This is why you need to be very careful when vetting web design agencies and make sure that the team you work with is the real deal. Let's take a look at some of the things you should do when hiring a web design agency.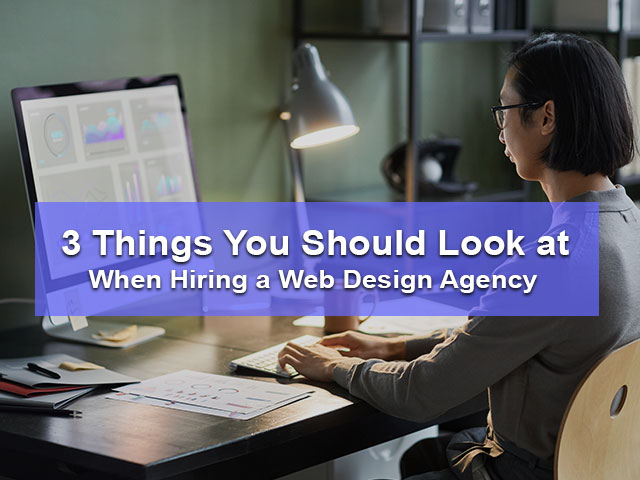 What's Your Platform of Choice?
This is a very important question that many first-timers omit to ask because they simply don't know better. However, not knowing this information before you work with an agency could have very serious consequences. A company might tell you that they're using a proprietary platform and you might assume that it's a good thing when it actually isn't. A proprietary platform means that you may have to constantly go back to them for updates.
It's much better to go with a web design agency that uses a well-known platform like WordPress or Joomla. Here, we would go for a WordPress web design agency team first if you have limited experience with web design platforms. WordPress is an extremely user-friendly platform that will allow you to make small or even major modifications with little to no experience. Most programmers know WordPress very well too, so you will have no trouble finding someone who can make choices for you.
Do they Actually Do the Work?
It's also very important that you check if the web design agency is doing most of the work. You have agencies that will do most of the work in-house while others will delegate certain tasks. Then you have people who use white-label agencies to do all the work for them. Agencies that use a white label service are not necessarily bad and some can do great work for a good price, but there might be some communication issues and some delays as well. They may also not be able to fix everything and make the website exactly as you want as they'll be at the mercy of the team they're working with.
So, try to check if the agency has at least a few savvy people on its team. This way, you'll be assured that you will get something that looks professional even if they don't do everything in-house. Check if they have a head designer and ask how long they've been with them. Also, ask about their formation and some of the projects they've worked on.
How Does Their Site Look?
This should be a given, but many people don't really consider the web agency's website when picking one. But this could give you a good indication of what your website will look like. If you don't like the aesthetic approach they have taken for their site, then it may be a better idea to go for someone whose site you actually like as they may be able to create something similar for you.
These are all very important things you need to consider when looking at web design teams. Take your time to interview a few different companies, and don't overlook red flags.